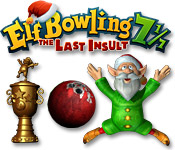 Hold on to your stockings! The elves are up to no good and Santa needs your help to show those crazy elves what the true meaning of "strike" is. It`s quirky, hilarious bowling fun just in time for the holiday season! Compete in a crazy bowling game with the elves - oh that naughty Santa - serving as the pins and providing their own special, colorful commentary. With just the flick of your mouse, bowl to get a spare or strike, winning trophies along the way.

Unique bowling lanes.
Quirky avatars and pins.
Creative power-ups.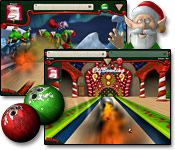 I have to say that this was one of the most unusual holiday games I've played this year, lol. Different modes of gameplay allow you to play against a friend, against the computer or try the story mode for a bowling adventure! The game play is rather easy, which is good as I was incredibly distracted by the Elves and their sarcastic comments, lol.
The graphics are bright and cheery, the sound is alright and the commentary of the Elves is just hysterical. Overall, I thought this was a very cute addition to the list of holiday games available!
Click these links for pop up screen shots:
Image 1
-
Image 2